nominate someone for an extreme Precision Makeover!
Know someone who is in great need of a furnace, but doesn't have the resources to get one? Tell us their heart-warming story and we may warm their home for years to come. Every year, as part of our Extreme Precision Makeover, we choose a person or family to receive a quality, high-efficiency Trane Comfort System for their home - valued up to $12,000! The winning recipient is chosen from the stories we receive. Watch for more information this fall when the nomination process opens up.
The Extreme Precision Makeover is one more way of saying "thank you" to our community for its ongoing business and support. It's also another way we support those in our area who are in need.
To nominate a deserving person or family who lives in the five county area, simply provide us the following information indicated below submit using the form below. The recipient will be chosen at the sole discretion of Precision Plumbing & Heating.
Also sponsored by: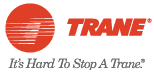 The Very Deserving Winners!
---
2018 Extreme Precision Makeover Winner
Our 12th Annual Extreme Precision Makeover Winner is... A VERY deserving family in the Traverse City area who've been without any heat since early December, lost their daughter to a battle with cancer last fall and have been hit with one difficulty after another! They were in great need of this gift of warmth and we hope that this gives them a little peace and especially hope during these difficult times.
Thank you to all who nominated to our annual Precision Furnace Makeover! We couldn't do this without you!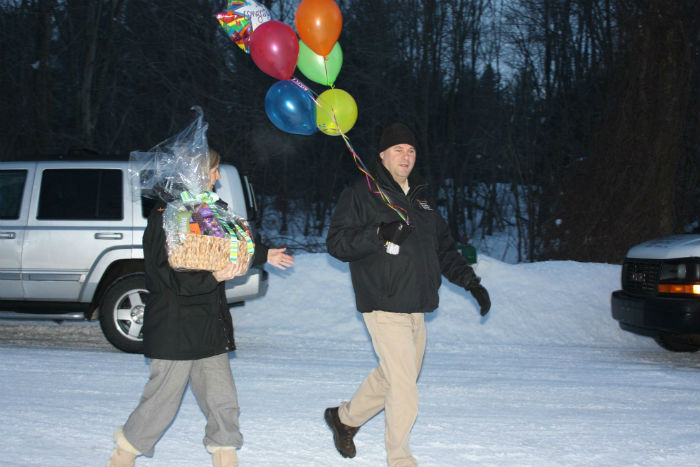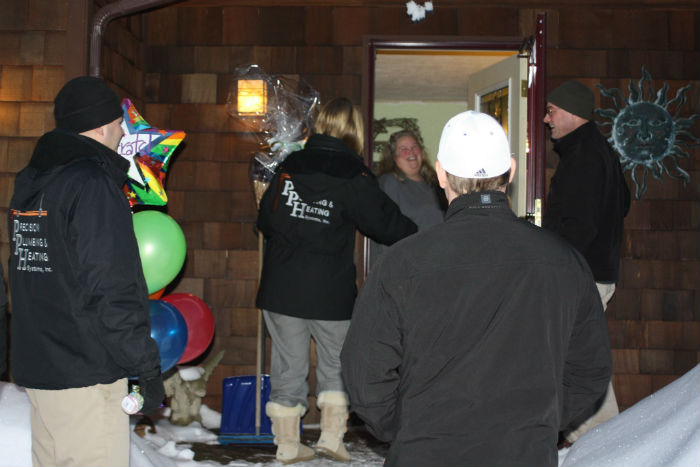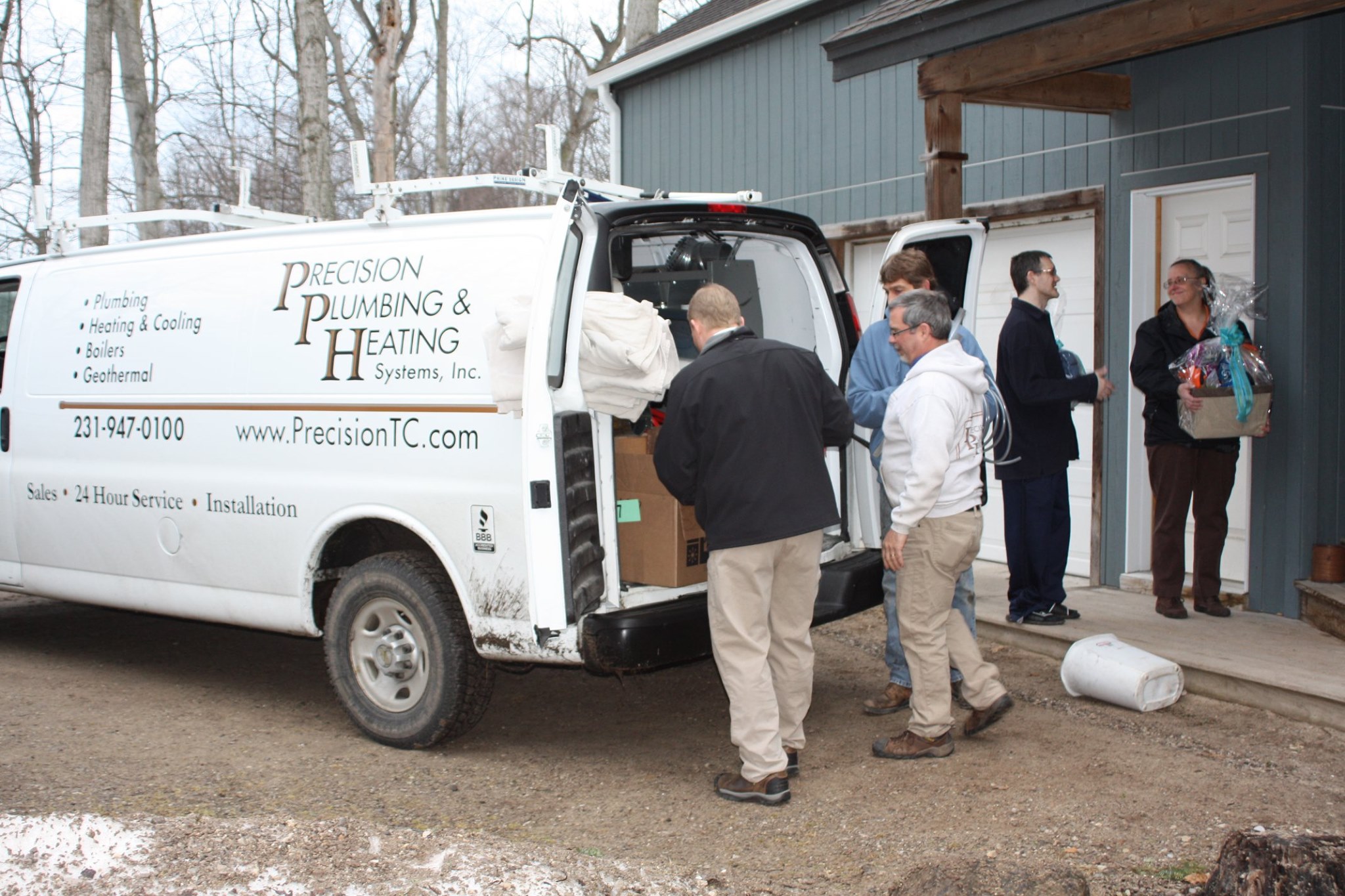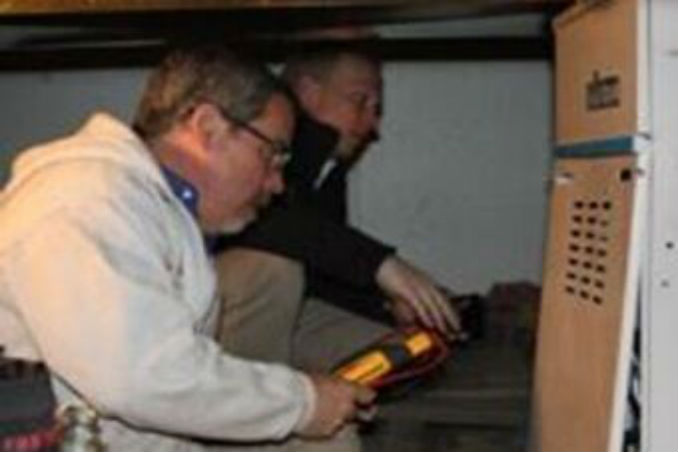 2017 Extreme Precision Makeover Winner
We were so honored to surprise Angie this morning with the news that she and her family were chosen as our 11th Annual Extreme Precision Makeover winner! So many nominations came in for this selfless single mom who works tirelessly to take care of her family and all her friends. After facing extreme difficulties this fall, her furnace completely died in December and she's been trying to heat her 1890's schoolhouse home with a dangerous propane heater. She has no hot water due to frozen pipes. The team at Precision installed a high efficient Trane furnace and a programmable thermostat as well as replaced the burst pipes and turned her water back on. Angie has such supportive friends and family and we are grateful and honored that they opened their hearts and home to us. One friend of Angie's told us that she gave a homeless person her last dollar and wasn't able to eat herself that night.
People like Angie are a blessing to us all and she was truly deserving of this gift of warmth. Thanks to all who nominated Angie and brought her to our attention!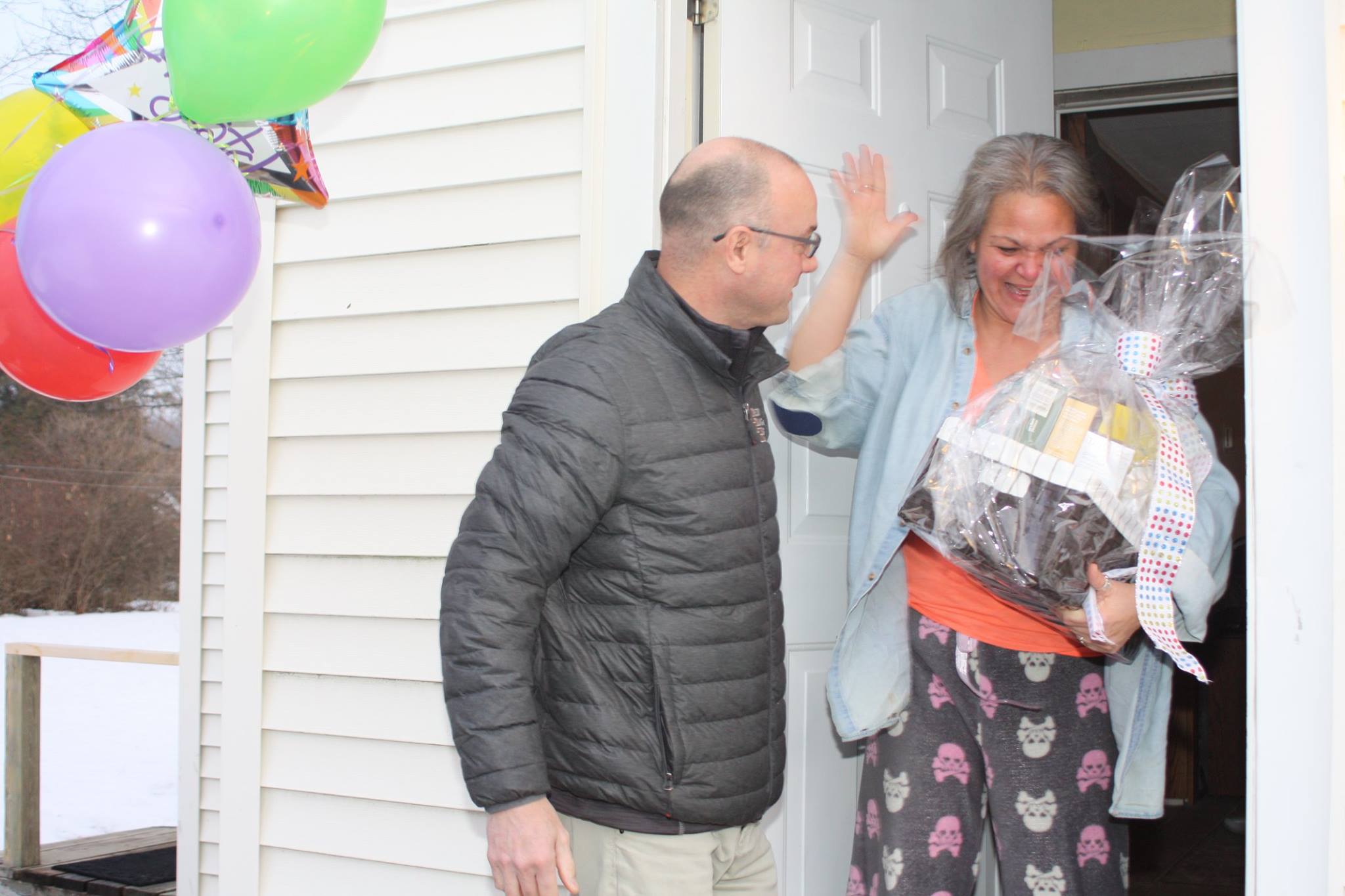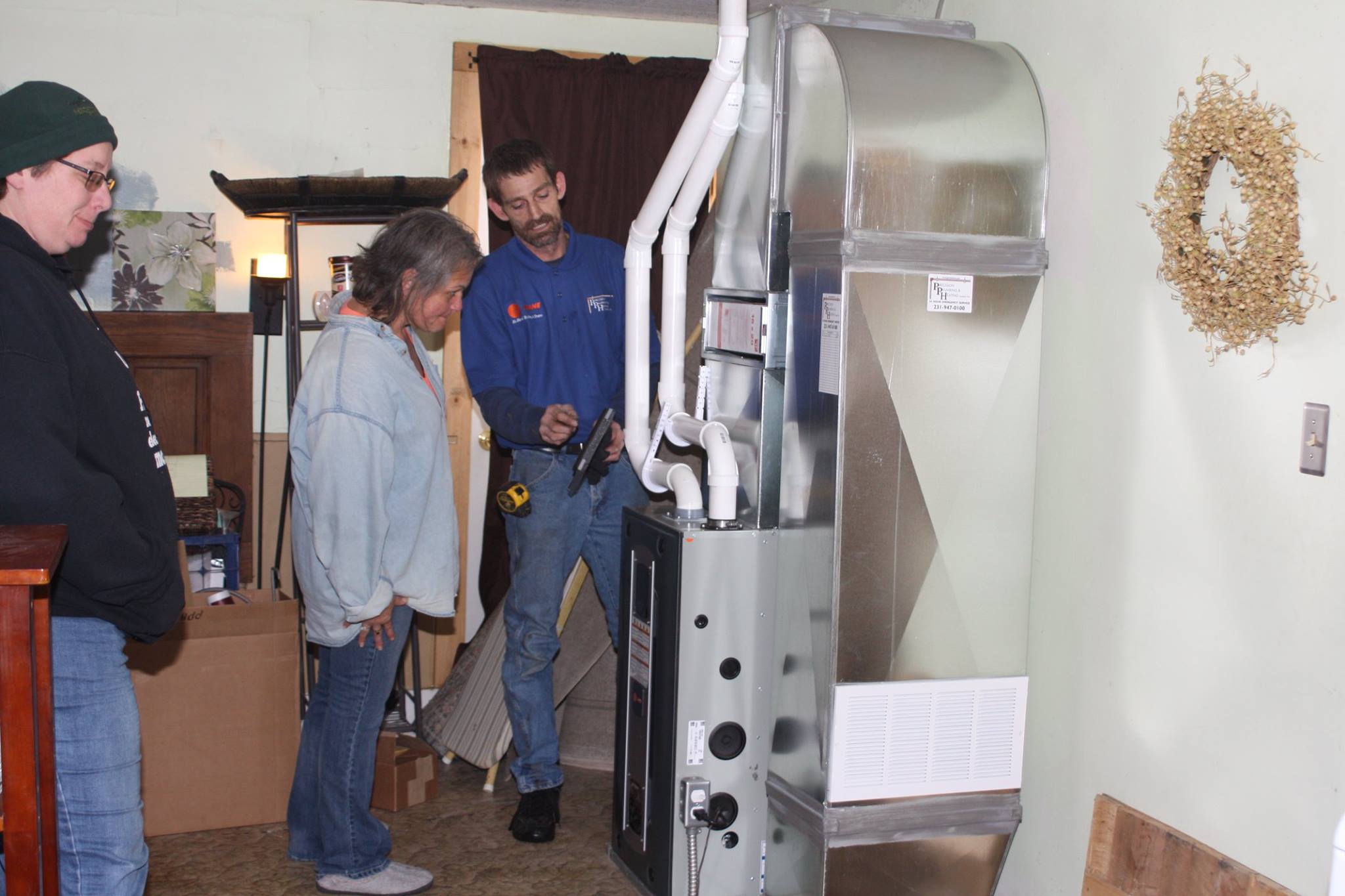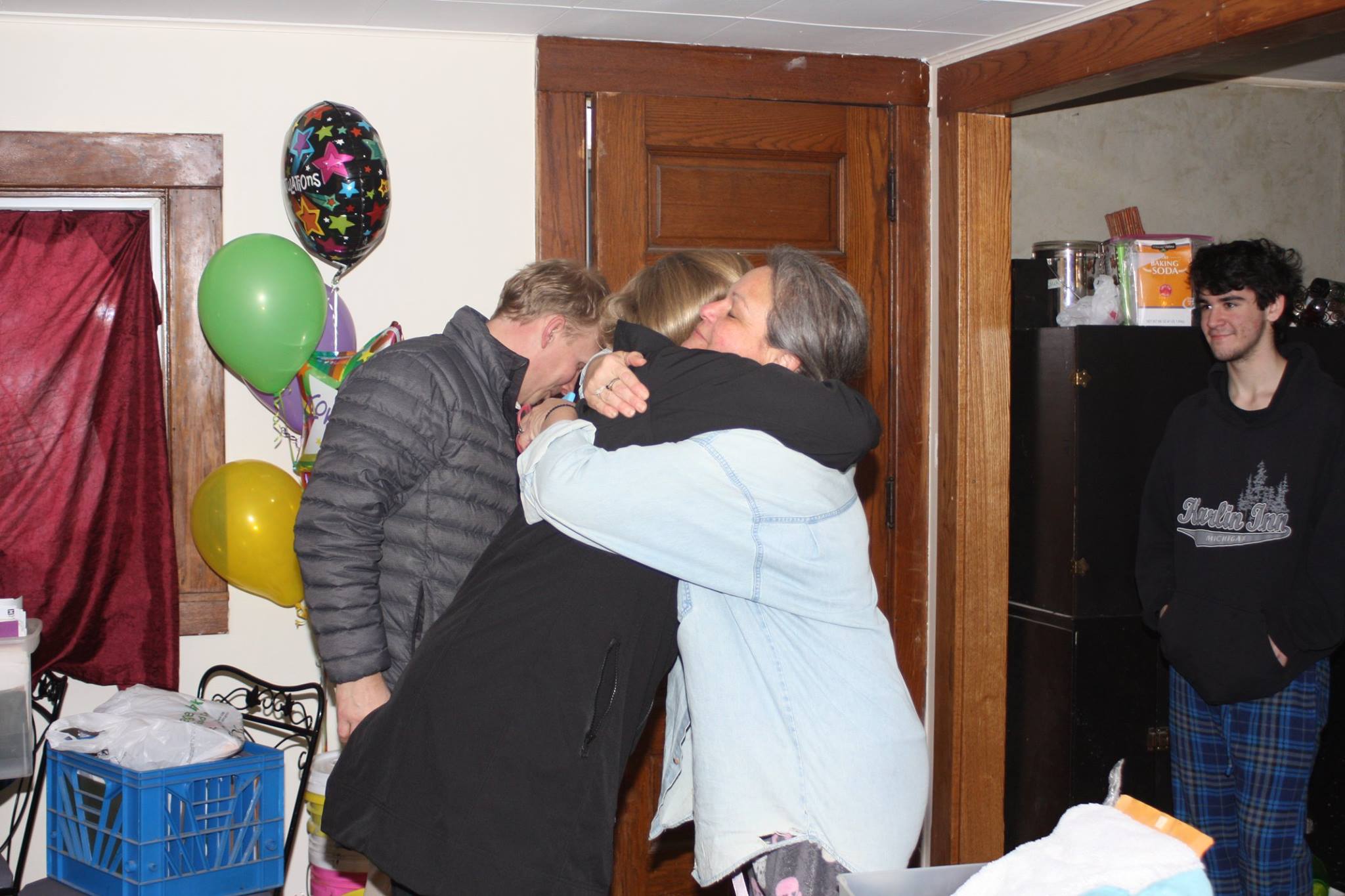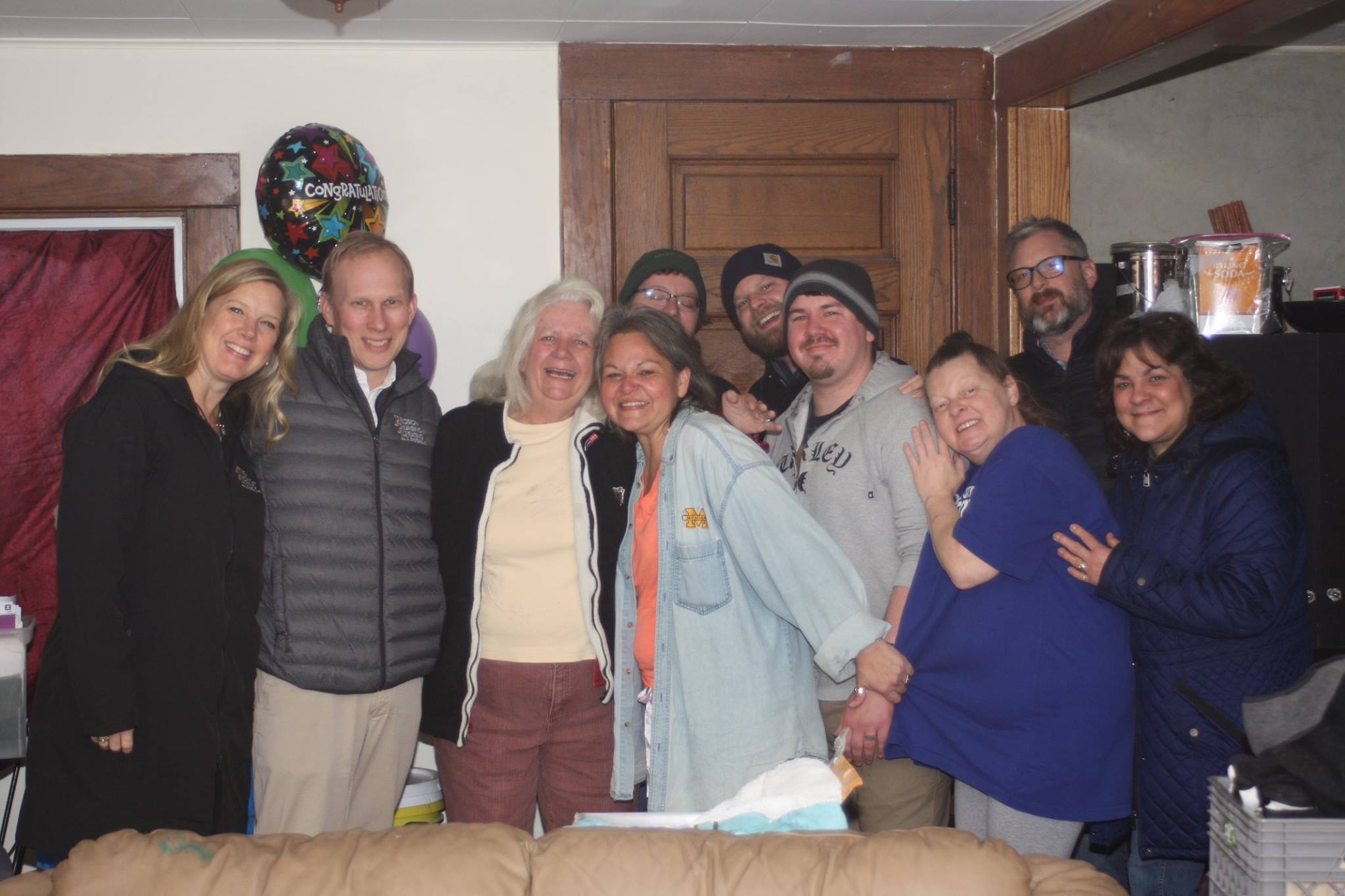 2016 Extreme Precision Makeover Winner
Our 2016 Extreme Precision Makeover recipient had an extremely challenging year, however, she still moved forward. This woman has gone through some heartbreaking times. Five months ago, Helmi Courtade lost her husband, Chris, after a four year battle with cancer. With the loss of his income and the overwhelming medical bills, she found herself in a difficult situation when life threw another punch. While her husband was sick in the hospital, Courtade had a flood in her basement, which severely damaged her furnace and water heater. It was an honor to bring warmth back into Helmi's home. We were able to install a new Trane heating system, as well as a new water heater.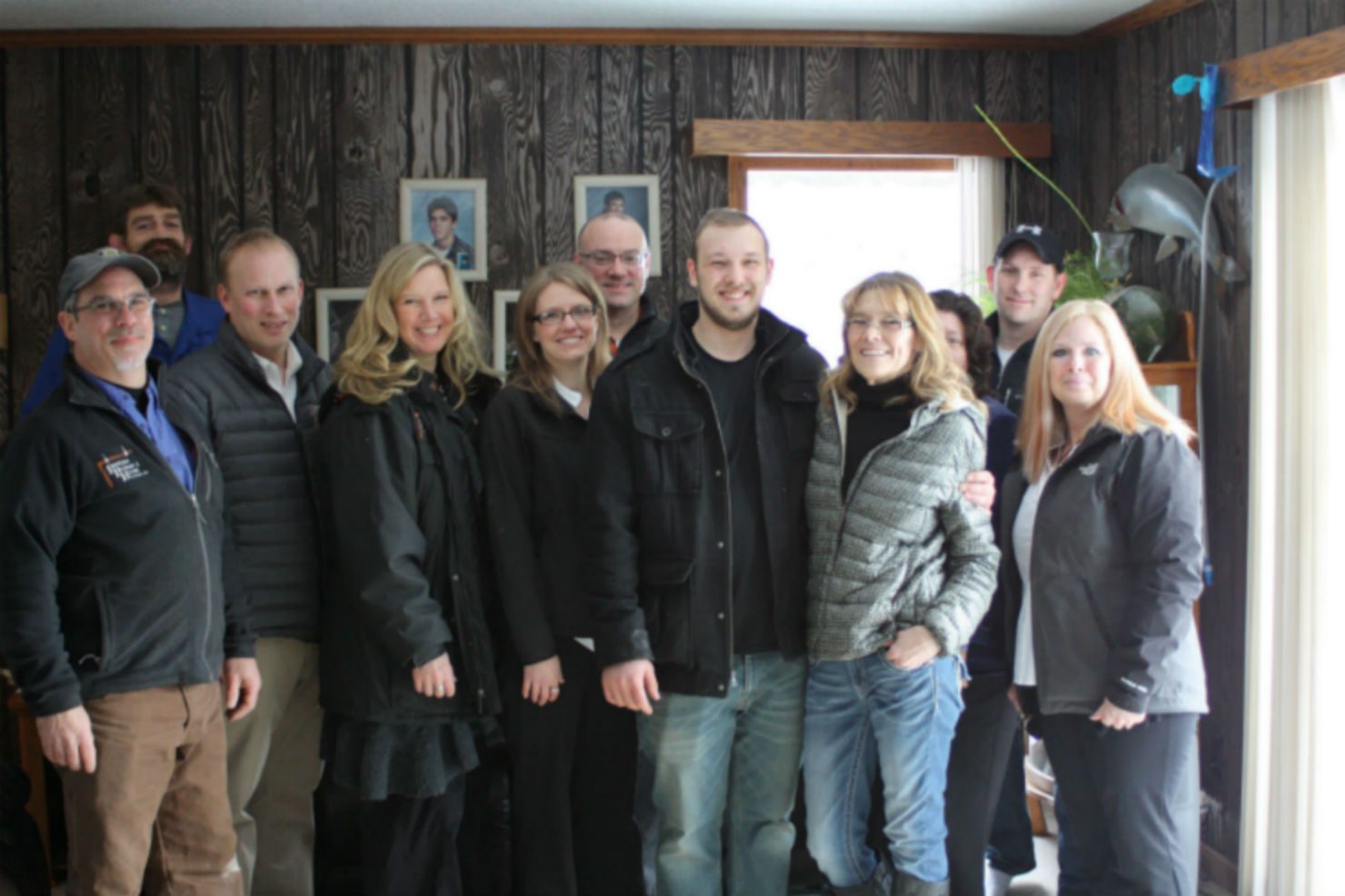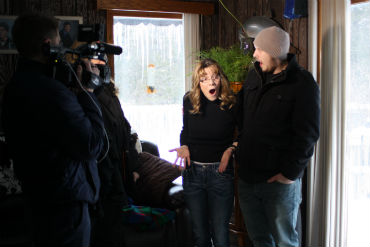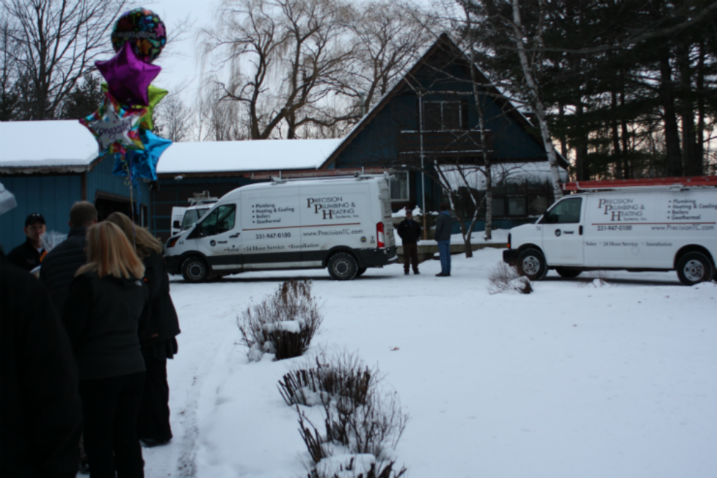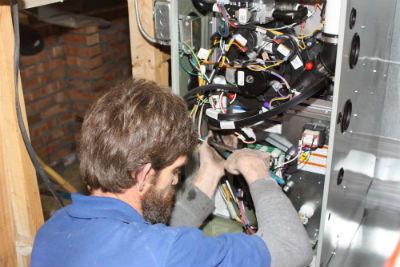 ---
2015 Extreme Precision Makeover Winner
Our 2015 chosen family was the vision of tenacity and never-ending optimism. Although there are many medical, physical, emotional, and financial reasons for this family to feel hopeless, they did't allow it. They open their home to those in need even when they are struggling themselves. Their furnace was over 25 years old, terribly inefficient, and likely to quit any day and they had no heat runs to the upstairs bedrooms. This job was challenging but our team was able to complete it over the course of a few days and this wonderful family can now be rest assured that their heating system won't be a cause of stress in their lives. The high-efficiency Trane Comfort System will be a source of warmth and will be low cost to operate. We feel honored to have been able to meet and help this local family in a tangible way.
Thank you once again to all who contributed nominations for their friends and loved ones. We couldn't offer this gift of warmth without your help in guiding us to these great families!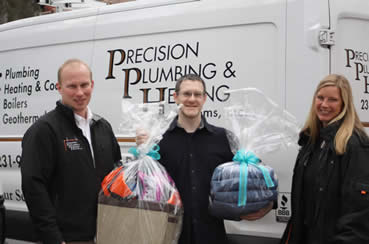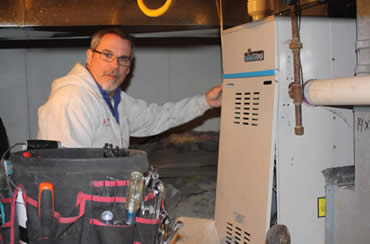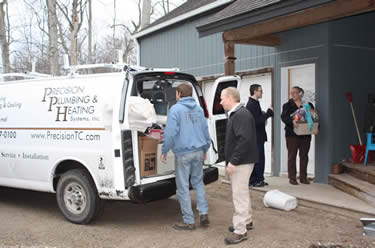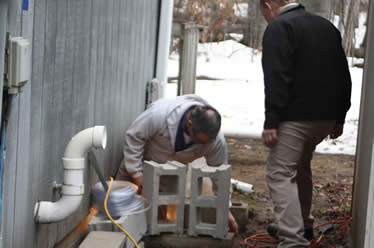 ---
2014 Extreme Precision Makeover Winner
This was one of the worst situations of all our Precision Makeovers in terms of the system itself! The furnace was ancient and red-flagged. They had a direct hole from the roof to the basement through open duct work allowing cold air to flow freely into the basement, as well as birds! There were even dead birds in the furnace itself! They had a rusted out water heater that was barely working to the point where the family had to choose if they were going to wash dishes or take a five minute, luke-warm shower. This family seemed to have one bad spell after another including the husband and wife losing their jobs, to the husband having a major stroke while training for a new job. At the time of the installation of the Trane Comfort System and water heater, the husband was in the hospital with pneumonia while he was still trying to rehabilitate after the stroke. We asked Flood Fighters to come in and clean up the mess from the dead birds in the basement as well as a recent flood. They were very willing to offer their services free of charge to make this a healthy living environment for this family. Our thanks go out to them for all their efforts and generosity. The most incredible part of this situation was that while the mom was trying desperately to hold everything together for their young son, she maintained an amazingly positive, loving, and hopeful attitude! We were so honored to be able to help minimize the stress by having a warm home, clean air to breath, a clean home, and the ability to take a warm shower! We wish this beautiful family the very best!
Thank you again to everyone who took the time to nominate someone deserving of this gift of warmth. Northern Michigan is a wonderful place because of people lwho care about those around you!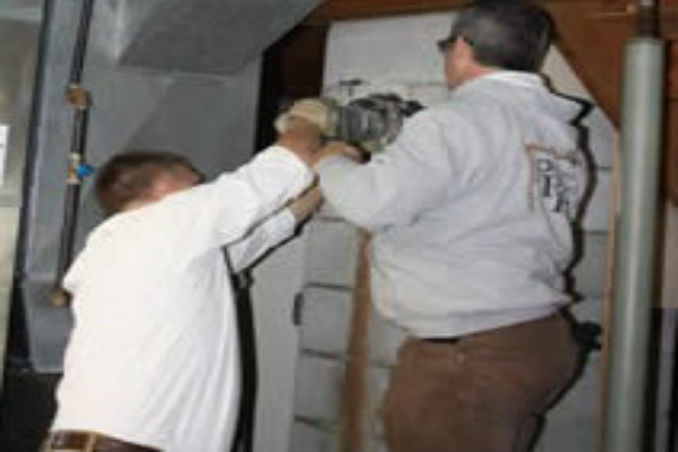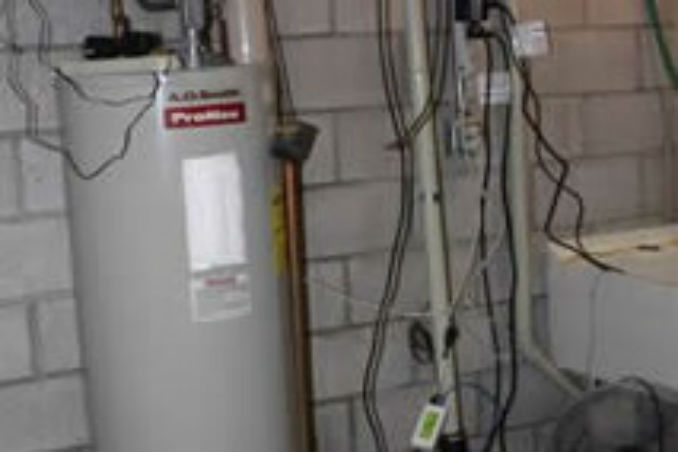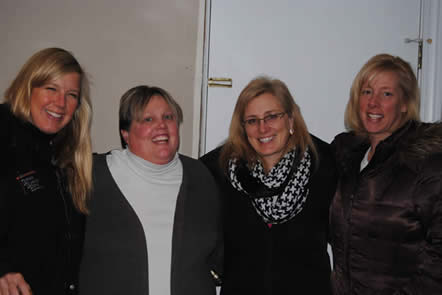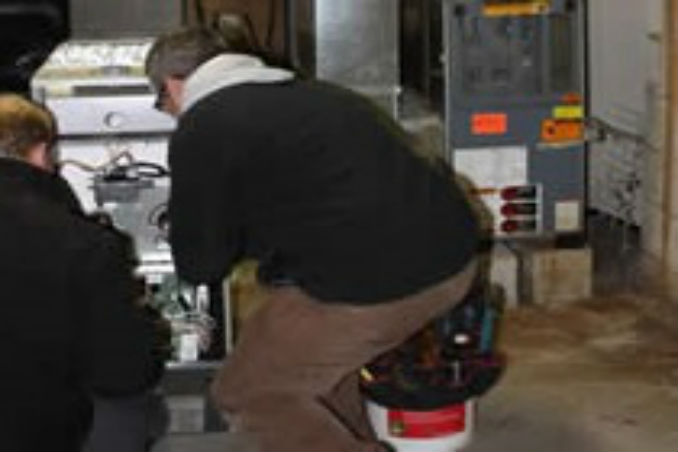 ---
2013 Extreme Precision Makeover Winner!
The winter of 2013 was an extremely cold winter for everyone and especially for those who had an unreliable or nonoperational heating system! Our hearts go out to everyone and anyone who finds themselves in this situation. It was very difficult to choose our winner, however, we found a very deserving family in the Grand Traverse area whose furnace and water heater were both installed over 30 years ago and were both on their "last legs". This retired couple was nominated by their son who said that they are always giving to others and would never ask for anything like this for themselves. They watch their grandchildren daily while their children work and they do whatever it takes to get by on a limited income, so a new furnace and water heater were at the bottom of their priorities.
Precision was fortunate to be able to install a new high-efficiency TRANE furnace and a new water heater to help them and their grandchildren stay warm during these cold days. We know they will find great peace of mind knowing this investment in their home was one expense that they can check off their list so they can focus on watching their grandchildren grow. They can also enjoy sleeping much more comfortably at night knowing that in the morning their home will be warm and cozy.
Thank you to everyone in Northern Michigan who nominated a friend, family member, or loved one for this gift of warmth. We couldn't do this without the help of everyone in our community who bring these wonderful families to our attention.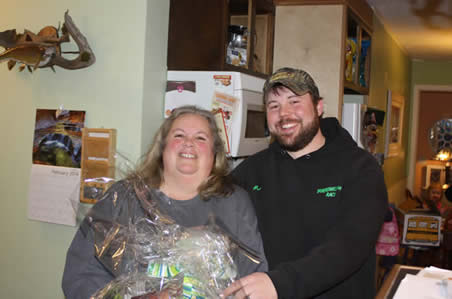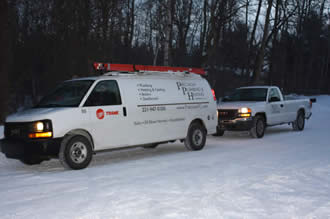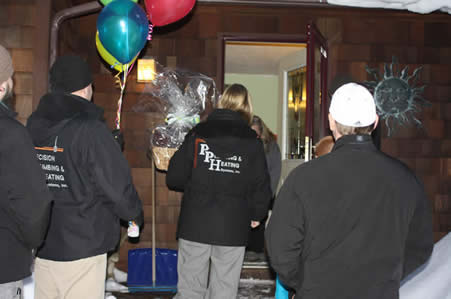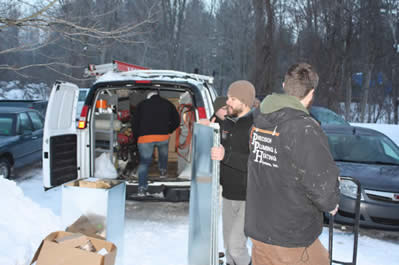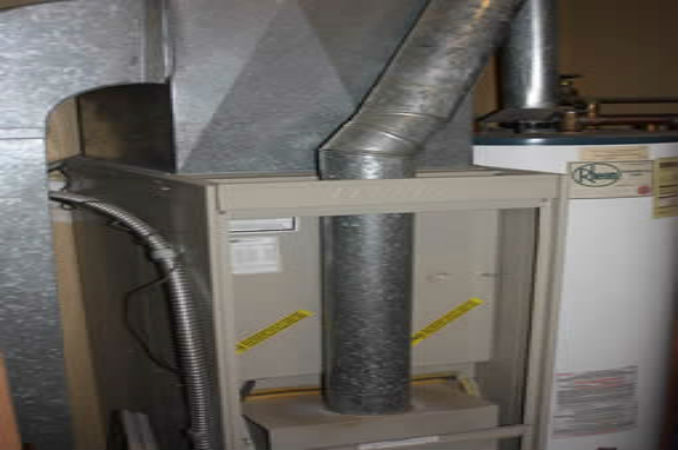 ---
2012 Extreme Precision Make0ver Winner!
Wow, what an incredible family we had this year! Our winning family was very unique in that we chose a single mom of two boys with very special needs, both physically and mentally. Their heating system was very old and inefficient and she had been told her furnace was unsafe ot use. However, with very limited funds she struggled to afford to repair it, let alone replace it. Once we began to realize the extent to which she dedicated her time to her children and that she would never ask for anything from anyone, we knew that we had made a great choice. When we wanted to replace the duct system to improve the airflow to several rooms she insisted that we use that money for others in need as those rooms were "just fine".
We were fortunate to have Dave Webster Construction join us this year by offering to do whatever was needed at the home. When we found an old chase in the roof that was never sealed and allowing much hot air to escape they came in and repaired the roof. As both boys are in wheelchairs, they also improved the access to the front door to make it easier to transport her boys in and out of her home. I can't express to you how much love is in this home, nor how blessed we felt to be able to help a family who would never ask for help but would be first in line to help others.
Thank you to all who participated in nominating friends and family. A special thank you goes out to David Webster Construction for their contribution to improve the living situation for this great family. We wish everyone in Northern Michigan a warm and safe 2013!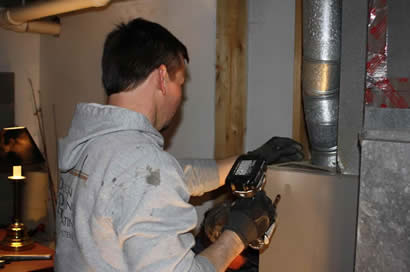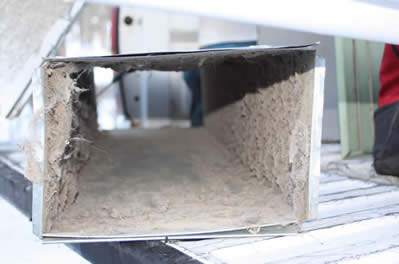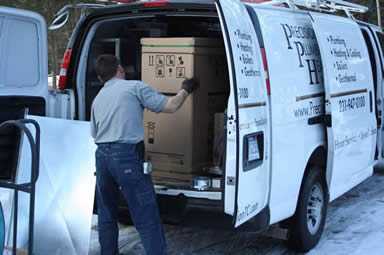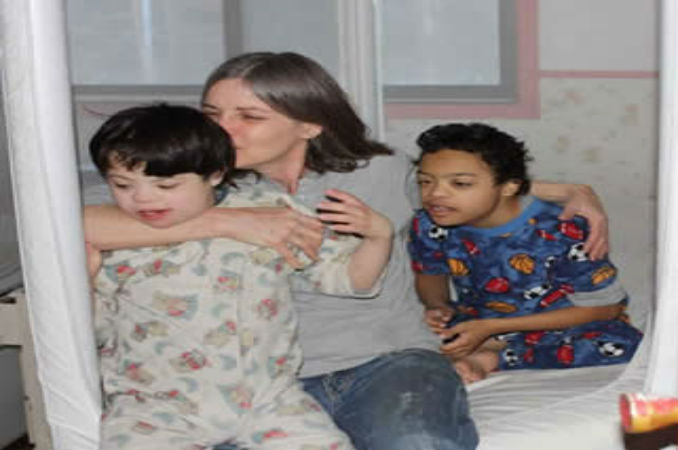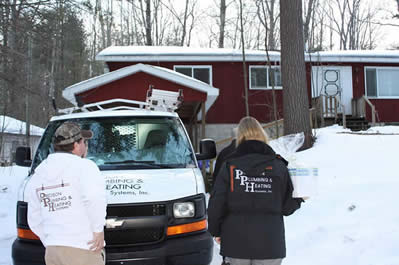 ---
2011 Extreme Precision Makeover Winner!
We had the great honor of installing a complete Trane Heating System as well as a new water heater for this year's Extreme Precision Makeover winning family! The family had hit very hard times between the lack of income and health issues. We found a very unsafe and barely working very inefficient 30+-year-old furnace located about 15 feet away from the master bed and a water heater that was the same age and in the same poor condition. With certain carbon monoxide issues for this family, a replacement of their system could mean the difference between life and death. With the water heater being provided by Ferguson Enterprises and the furance equipment by Trane, we were able to install a highly efficient new system for this beautiful family. When we arrived to do the installation they were both surprised and overwhelmed and we could see by the look of extreme gratitude on the mom's face that we had made the right choice. We wish this sweet family a bright and beautiful future to raise their children in a home without the worry of a furnace breaking down.
We struggle every year to narrow it down to just one winner and we thank everyone who participated by submitting the many nominations once again this year. We look forward to being able to do this again in 2012 and are accepting nominations for the upcoming winter season. Thank you again to our great Northern Michigan neighbors for getting actively involved in this gift of warmth!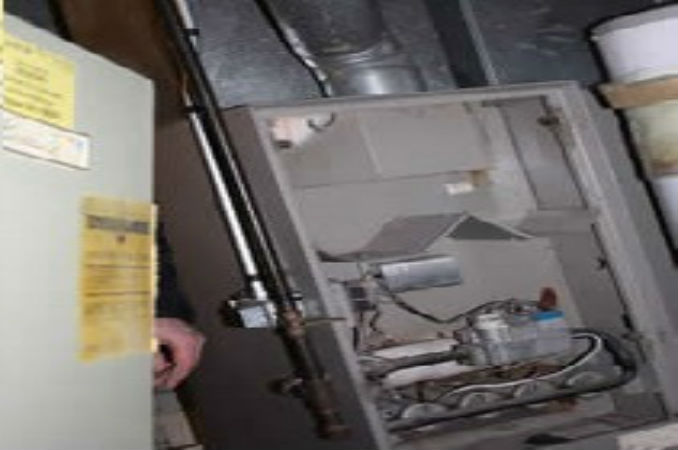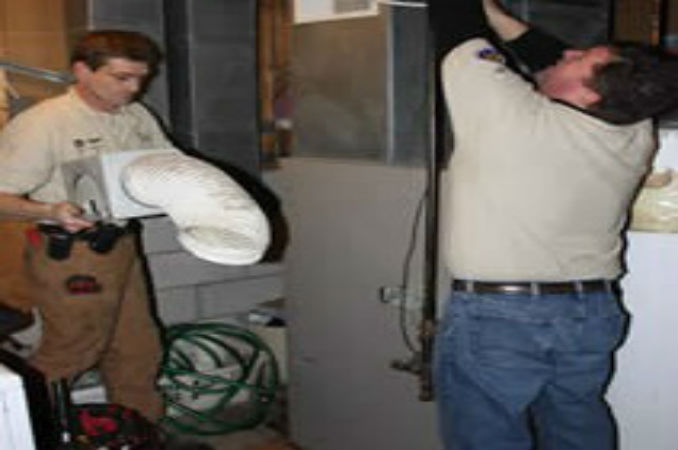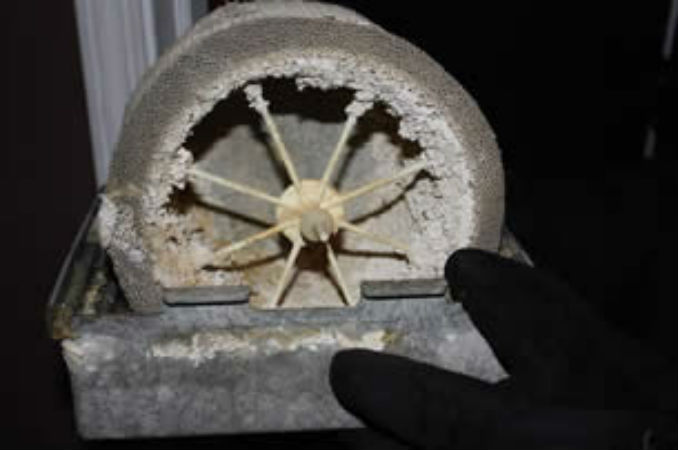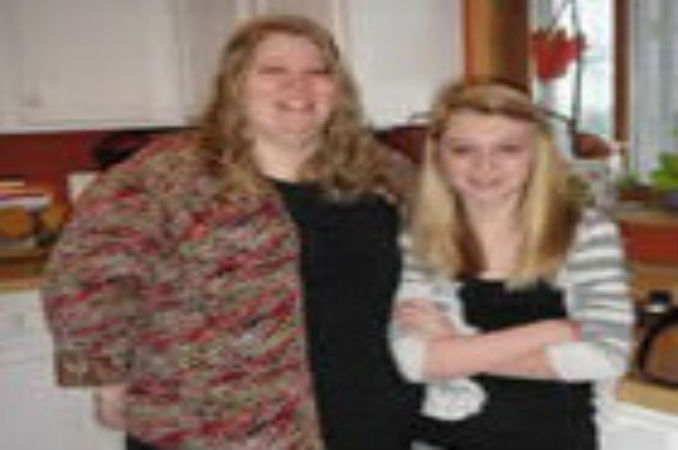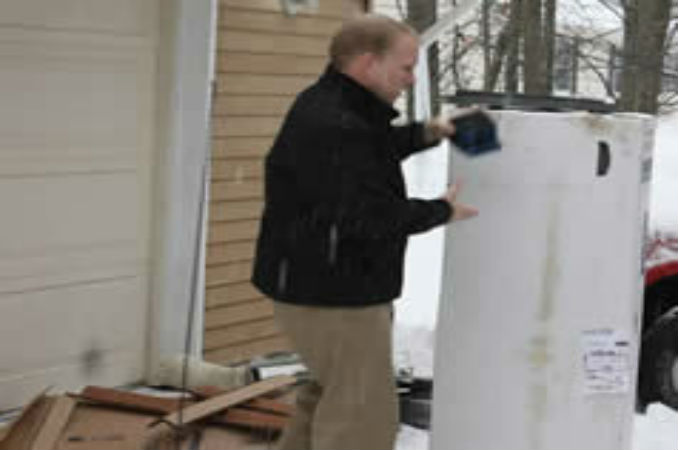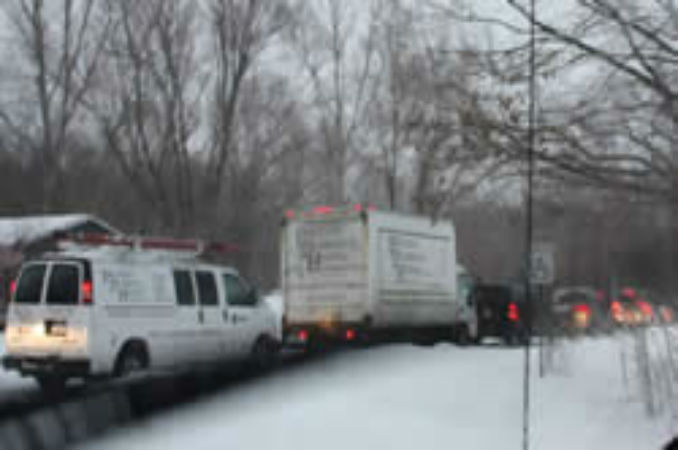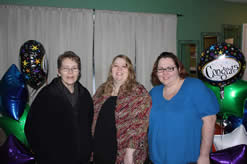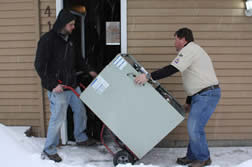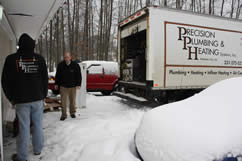 ---
2010 Extreme Precision Makeover Winners!
This year proved to be no less difficult to choose a deserving family. We had so many families in need due to both the economy and a string of unfortunate situations. However, the Shumar's stood out. They have a new baby girl who was born with issues that have caused her to spend a great deal of time in hospitals downstate, causing her mom to lose her job, while her dad has been unemployed for 2 years due to the housing downturn. Their furnace was ancient and unreliable and blowing only into a small Michigan basement. What little heat would radiate up would be the extent of their warmth. With an unhealthy newborn in the home, heat is a necessity and their resources were beyond tapped. We felt honored to be able to give this beautiful family peace of mind in knowing that they wouldn't have to worry about heat or furnace repair costs and their reduced heat bills will give them a little extra to help with medical expenses. We wish the Shumar Family a healthy and beautiful future!
Thank you again to all who nominated loved ones for this gift! We couldn't do this makeover without all of your nominations!
Bob, Leslie, and your entire dedicated team at Precision
Just a follow up on the Shumar's; After viewing the story of Shumar's situation a woman called them and offered Mrs. Shumar a full-time position with a company that also has a great health benefit plan. They have reported that their heating bill went from around $500 per month to $115 per month after the new efficient system was in place. We are so grateful for the update and very happy to hear the wonderful news for such a special family!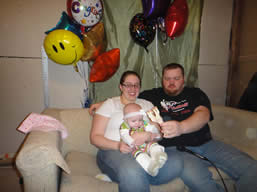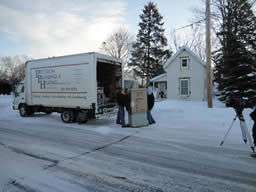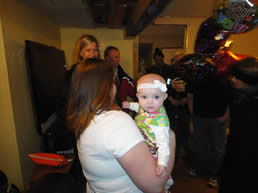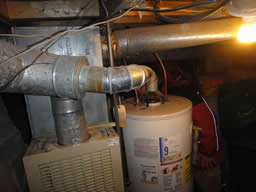 ---
2009 Extreme Precision Makeover Contest Winner
Choosing a winner for the free Trane Furnace Comfort System this year was a more arduous task than ever before. We found ourselves overwhelmed by the great needs in our community and felt very insignificant in our ability to really make a difference. However, we chose a beautiful family in the area with a baby who has suffered from breathing issues ever since he was born. The parents both are working to make ends meet and have faced significant financial stress due to their son's breathing conditions. Their furnace was "Red Tagged" last fall as it was unsafe to continue using the 30-year-old rusted relic. Our candidates work hard, not only to pay their own bills, but to also volunteer for local community services such as Toys for Tots. Once again, through their courage to continue on, although faced with adversity, we feel truly honored to have met them and to have chosen this very special family. The love of their friends and family was evident by their show of support in the morning that we arrived to surprise them with the new system. We are grateful to Trane for assisting with this endeavor to help out our community by not only supplying a 95% high efficiency furnace but due to the child's breathing conditions, they once again included a Trane CleanEffects whole-house air filtration system. We look forward to following the family over the next few weeks to watch the expected improvement in their son's breathing condition. Again, we are so thankful to all who nominated loved ones for this makeover. The nomination letters we read moved us to tears and made us feel like we live in the most caring part of the world. We thank all those who took the time to put into writing your care for your neighbors, friends, and family. We also want those of you who were not chosen to know that we deliberated long and hard over this decision as you are each a pillar of strength and stamina to our community.
Thank you to all who participated in making this possible! We couldn't do it without you!
Bob, Leslie and your entire dedicated team at Precision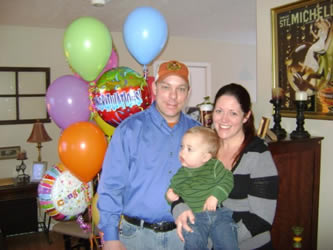 The Deserving Family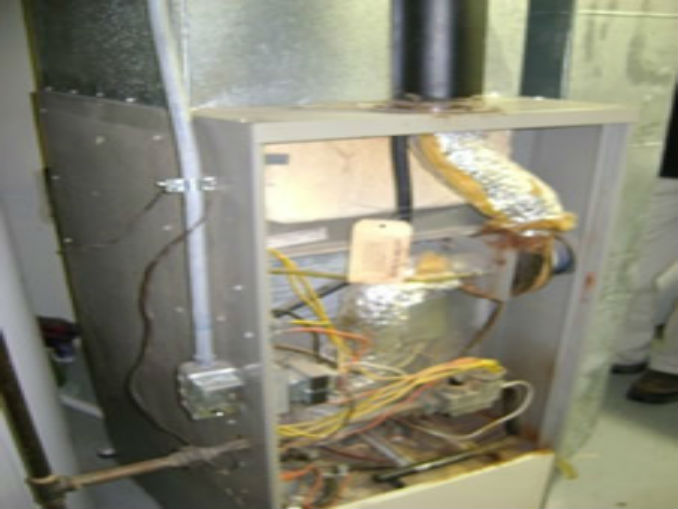 The Unsafe Furnace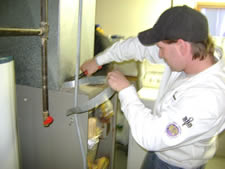 Out with the OLD!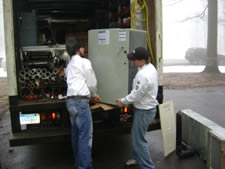 In with the NEW!
---
2008 Extreme Precision Makeover Contest Winner
This year, Precision chose a family that lives in Leelanau County, near Cedar, Michigan. Every year the process of choosing a deserving family is both an honor and a great challenge. How do you put a measurement on who is most deserving of a furnace makeover? All the nominees were very qualified and indeed in great need of new furnaces. Many were facing challenges both financially and physically and yet they continued to keep their chins up and help out their neighbors in need. I must say that this is one of the most heart-wrenching challenges that we as a company face each year. However, we felt that because of our candidate's years of putting others first despite her own situation, she was a great choice. Her daughter has breathing problems and when they would heat with wood she would wake up in the middle of the night due to difficulty breathing. So on those occasions, they would dress very warm and huddle around a very small, 8"x 8", space heater. Thanks to Trane, we were able to install a whole-house CleanEffects air filtering system as well as a humidifier to improve the daughter's breathing condition and a high-efficiency heat pump system that will cost-effectively heat their home for many years to come. We want to thank all who nominated friends, family, and acquaintances who were all very deserving. We again wish that we could put in a new system for each nominee. We truly feel blessed to live in an area where people care so much about others and will reach out to them no matter how large their own needs. We saw this in both our nominees and those who took the time to nominate them. Thank you to each of you for making this possible for us.
Sincerely,
Bob, Leslie and Your Entire Precision Plumbing & Heating Team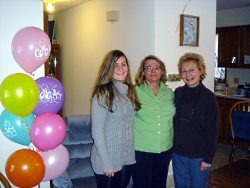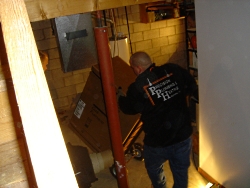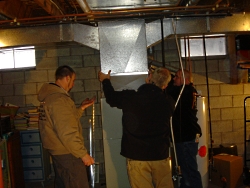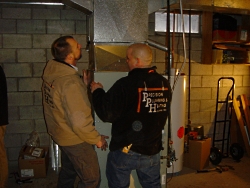 ---
2007 Extreme Precision Makeover Contest Winner
We chose Alison of Grand Traverse County, who was nominated by her sister who knew that Alison wouldn't ever expect something like this to happen to her and certainly wouldn't ask for it. She faced many difficulties in her life with great dignity and yet still found the strength to help others. Alison's equipment was dangerously old and broken down as well as being very inefficient.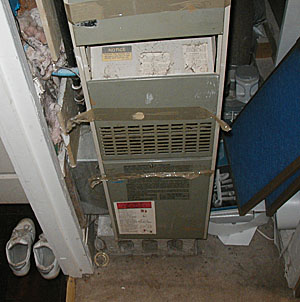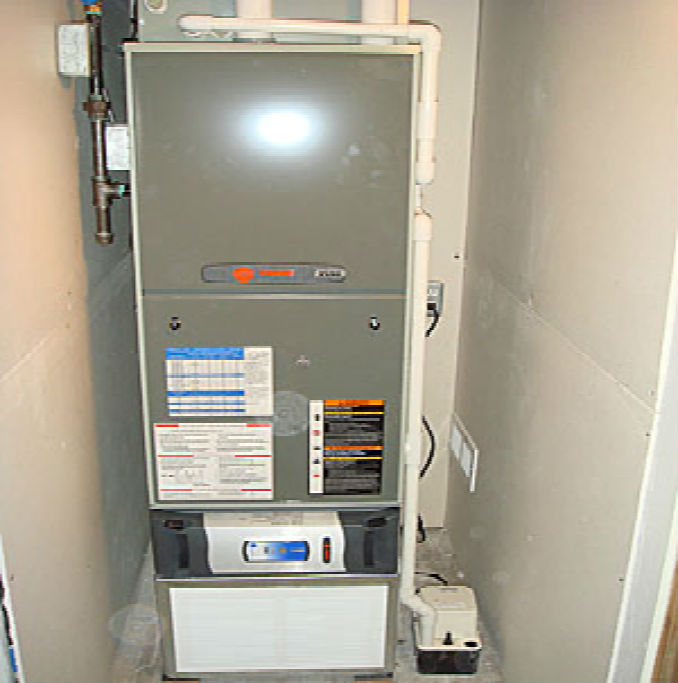 Alison's old furnace, held together by duct tape and housed in an area with crumbling wallboard and insulation, and her new Trane Furnace in a more sound structure.
The safety of her new system can now give her the peace of mind knowing that she and her children have a new highly efficient system (picture at right) that will no longer pose a threat of fire or carbon monoxide leaks and will reduce her heating bills as well. We also included a 10-year warranty so that she doesn't have to pay for any repairs to the system if any are needed during that time period. Her son has asthma, so we hope that the installation of the Clean-Effects will help to improve his breathing condition as well as a Heat Pump/Air Conditioner to keep the house a comfortable temperature year-round.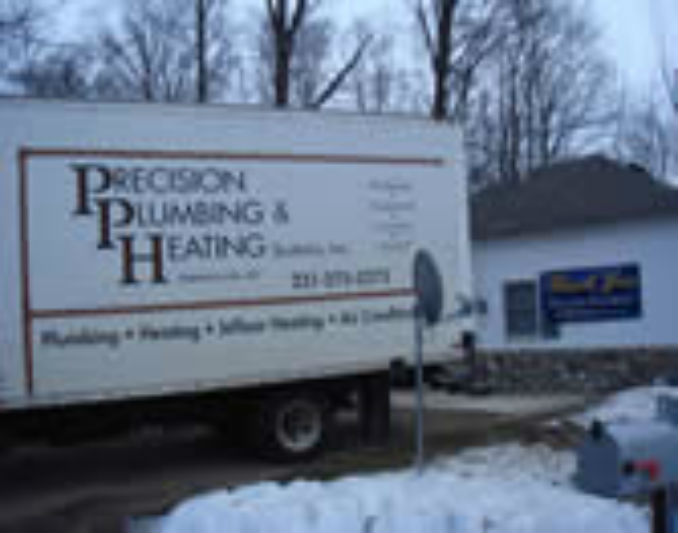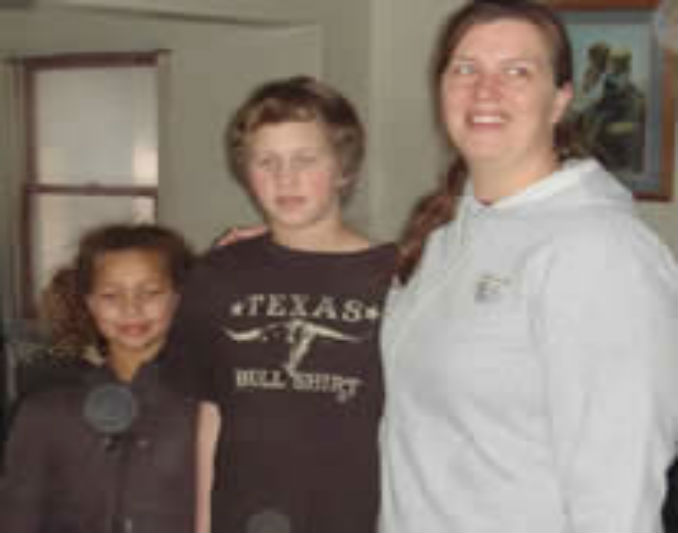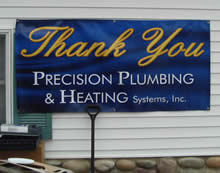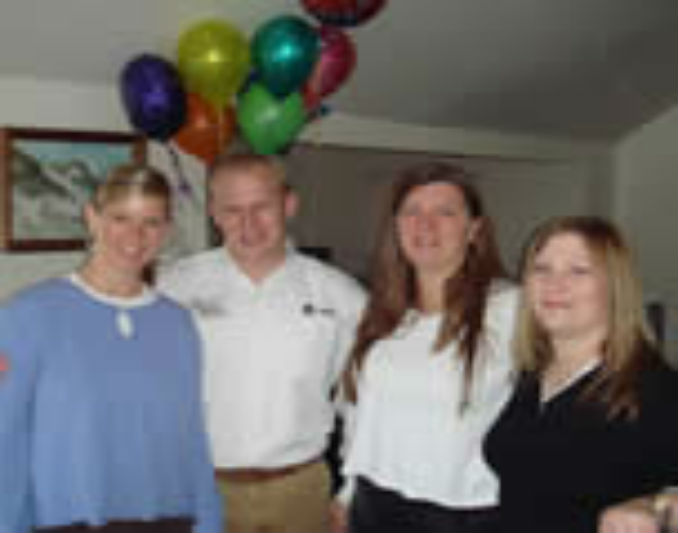 We feel honored to know a little more about this extraordinary family and to be able to help them in this way.
We also want to thank Alison and Britten Banner for the very FANTASTIC banner they made for us as a thank you, as well as Alison's sister for nominating this very special family to our inaugural Extreme Precision Makeover.
A big thank you goes out to TRANE and our TRANE representative for providing this top of the line equipment and making it possible to install extraordinary quality and dependability in Alison's home. We feel confident installing Trane equipment because it is equipment that we can stand behind in offering great peace of mind.
---
To read the Traverse City Record-Eagle article regarding the makeover go to this link.
Click on the article when it opens up to get a larger view of the image.